City Offices
Office Hours:
Monday - Friday
8:00 a.m. - 5 p.m.

Phone: (361) 552-9793
Fax: (361) 552-6062

City of Port Lavaca
202 North Virginia
Port Lavaca, Texas 77979

About Port Lavaca
People from all over Texas are starting to discover our little jewel, nestled in the middle of Texas's Gulf Coast. Don't let the big resort-like look take away from its small town feel though, it is a perfect place to get away from the city bustle and fast traffic hustle. Read More
Community News and Updates
Great Texas Warrant Roundup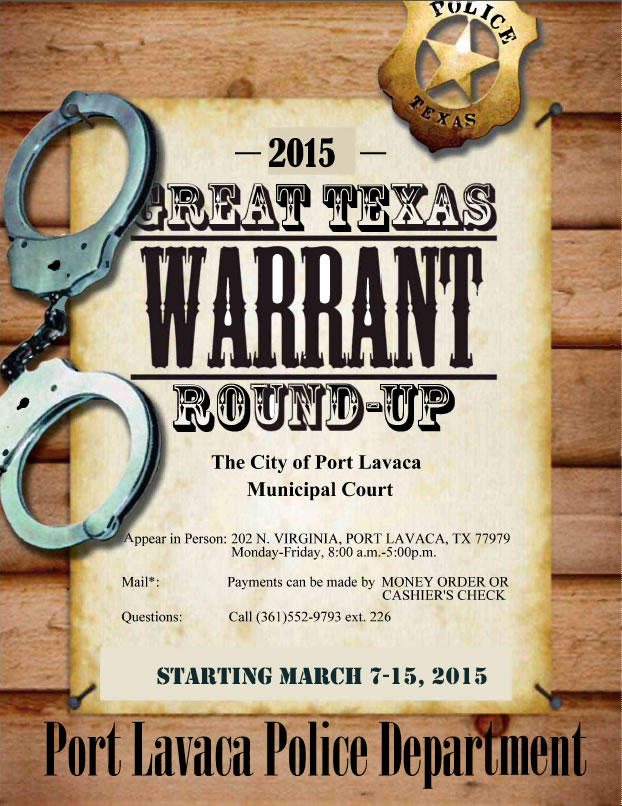 Do you have outstanding Warrants?
You'll want to get those taken care of before March 7th. That's when the Great Texas Warrant Roundup will begin. Agencies statewide will be working together to resolve as many outstanding warrants as possible.
View flyer
.
Veterans Memorial Bricks
Veterans Memorial Bricks Applications are now available for the Veterans Memorial Bricks to be purchased for the Veterans Memorial to be located at Port Lavaca Bay Front Peninsula Park. The memorial bricks will be available for purchase ($80.00) by those who wish to honor a veteran. You may pick up an application at the C
ity Hall Water Department or
download here
.
Weatherization Program
The City of Port Lavaca is sponsoring a Weatherization Program that can make your home more energy efficient and save you money each month on your utility bills. Qualifications for the Weatherization Program include: You must be an AEP Texas Central Company electric metered customer; Must meet certain income requirements; and your home must pass an energy audit/inspection to determine if energy efficiency services are waranted for your home.

Find out if you qualify by contacting Maricela Gonzales or Scotty Jones at City of Port Lavaca, 361-552-9793 ext. 221 or 234 or email mgonzales@portlavaca.org. Applications can be taken over the phone, picked up at City Hall or downloaded by clicking here.