Welcoming Visitors Since 1519
A Clovis point found in this area from prehistoric times indicates that Calhoun County was inhabited by Paleo-American groups. Later, the Karankawa Indians covered an area from Galveston to Corpus Christi and inland for about 150 miles. The Karankawas were here to meet the first European explorers. By approximately the mid 1860s they had all but disappeared. Some experts believe that a small band migrated to Mexico.
Many people have visited this enchanted area of the Texas Mid-Gulf Coast for many years. The first European to explore the seven bays of Calhoun County was Alonza Alvarez de Pineda in 1519. In February of 1685, Rene Robert Cavelier, Sieur de la Salle landed on the shores near present day Indianola on Matagorda Bay and established the first French fort in Texas named Fort St. Louis. One of his four ships the LaBelle sank and was recently discovered in the waters of the Matagorda Bay. A statue of his likeness is located in Indianola Park.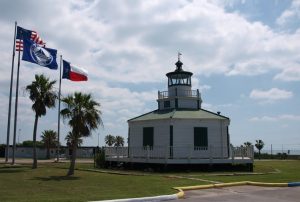 Halfmoon Reef Lighthouse
Known as the oldest surviving wooden lighthouse structure in Texas, the Halfmoon Reef Light Station, a six-sided building, is made mostly of cypress wood and originally was attached to iron piles that had been screwed into the shallow bottom of Matagorda Bay. Built in the late 1850s, it guided ships past the treacherous Halfmoon Reef, a mud and oyster shell shoal on the east side of Matagorda Bay. Today it sits proudly next to the Bauer Community Center in Port Lavaca, Texas on Highway 35.
---
Things to Do and See
Nautical Landings Marina
Located at the southern terminus of U. S. Highway 87 in historic Port Lavaca, Texas, Nautical Landings Marina provides services that boaters expect to find only in larger, more costly marinas.
From the Gulf of Mexico, enter Matagorda Bay through the Jetties then proceed inbound (appx. 300 degrees M.) in the Matagorda Ship Channel until you reach the preferred channel marker, green over red dayboard "PL" where the channel splits (appx. 15 miles). Bear left into Port Lavaca Channel (appx. 290 degrees M) and pick up Green "1" – – at night flashing 2.5 sec. green. Proceed to Green #15 then bear left 60 degrees to appx. 230 degrees M. Keep the red triangular markers to your right and follow them into the marina. From the Intracoastal Waterway, bear nothwestward (appx. 300 degrees M) at the intersection of the ICW and the Matagorda Ship Channel. Then follow the direction above to Nautical Landings Marina. Rates are figured by the length of the slip at $4.00 per foot. Electricity is $15.00
---
Light House Beach
Enjoy the tropical comforts that this RV site has to offer. With 55 full hook up sites including cable TV, you'll agree this is the best of living on the Gulf Coast! Check out these other amenities:
2200 foot board walk from beach to bird tower, made from recycled materials.
Picnic area and playground.
White sandy beach.
Large, 50′ by 100′ covered pavilion.
3100 foot asphalt walking path.
Campers only restroom facility.
Washers and Dryers for Campers.
Recreation Center
---
Port Lavaca Main Street Theatre
https://plmainstreet.org/main-street-theatre
The historic Main Street Theatre thrived in the 1930's and 40's and survived several hurricanes through the years. Many long-time residents have fond memories of going downtown for plays, movies and popcorn in a charming building with floor and balcony seating. As the commercial centers moved away from the downtown area, the theatre also was deserted and it remained empty for 30 years, falling into disrepair. In 1983, Russell Cain purchased the theatre and donated it to the Main Street Committee in 1992.
Driven by the goal of bringing live theatre back to Port Lavaca, extensive renovation work was done from the floors to the roof, with the help of grants, donations, and the work of dedicated volunteers.
On September 29, 1994, the Gala Grand Opening celebrated the resurrection of live theatre in Port Lavaca, with Pat Jurek directing a cast of 24 people. The new theatre has a new stage, a refurbished balcony, and 263 seats. Each year, residents and visitors can enjoy several plays showcasing local talent (and we do have some great talent!) as well as country oprys, fashion shows, and other concerts.
See the link above for current and previous play scenarios and production dates. We invite you to come enjoy the talented cast of characters who make an evening at the Port Lavaca Main Street Theatre a delightful experience.